Our Dear Susan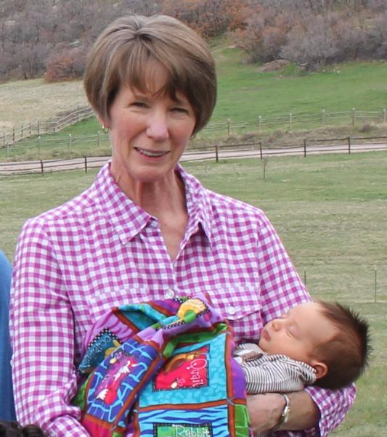 Susan Jean Guthrie, 67, of Sedalia, CO, went to be with her Lord on September 20, 2016 at Presbyterian St. Luke's Medical Center after a year-long battle with Leukemia.

She was born on April 17, 1949 in Denver, Colorado, daughter of Ray E. and Mary (Marks) Wilcox.

She spent her childhood in Wheat Ridge, CO, graduating from Wheat Ridge High School in 1967. After attending Colorado State University from 1967 to 1969, she married Charles Harrison in 1969 and lived in Washington State and Lakewood, CO where they raised their daughter, Jennifer.

She returned to college and earned her M.A. in Urban and Regional Planning at U.C. Denver. She also earned a Certificate of Advanced Studies in Geographic Information Systems (GIS) at the University of Denver in 2002. Susan worked as a contractor to the U.S. Geological Survey (USGS) and the Bureau of Land Management (BLM). Her duties included GIS tasks on the GeoMAC project.

She enjoyed being active; favorite activities at different times of her life included softball, skiing, hiking, camping and ice skating.

Susan was married to John D Guthrie at Creekside Bible Church on May 21, 2005. She moved to Sedalia, CO, where she spent her remaining years serving her Lord by serving others. Serving generally involved serving food through local organizations such as Open Door Ministries, Denver Ignite, His Hands, Creekside Bible Church and the Douglas County Task Force. She also traveled to seven different countries in this ten-year period as God's hands and feet.

Susan's surviving family includes her husband, John D Guthrie, her mother, Mary Wilcox, three siblings, Peter, Steve and Anne Wilcox, her daughter, Jennifer Brown, granddaughter, Karina Brown, three step-children and five step-grandchildren.

Susan is preceded in death by her father, Ray E. Wilcox, her first husband, Charles Harrison, father of her daughter and by her granddaughter Carlie Brown.

A memorial service in her honor will be held on Saturday, October 15, 2016, 2:00 pm at Creekside Bible Church, Castle Rock, CO.

Memorials in Susan's name may be made to Compassion International

.